By: Sean Vannata, Anna Shaw-Amoah, Molly Pileggi, Molly Schlesinger, Theodore Wills, Roland Reyes, and Alyn Turner
October 2022
Summary
Pennsylvania's Graduation Pathways in brief
Keystone Proficiency Pathway requires a Proficient or Advanced score (1500 or better) in all three Keystone exams.
Keystones Composite Pathway requires that students take all three Keystone exams with at least one proficient or advanced score, a composite score of at least 4452, and no Below Basic scores.
Career and Technical Education (CTE) Concentrator Pathway involves requirements around attaining an Industry-Based Competency Certification related to the CTE concentrator's program of study or otherwise demonstrating industry-based competency
Alternative Assessment Pathway involves attaining an established score on an alternative assessment (e.g., AP or IB exam), completion of a pre-apprenticeship program, or completion of a concurrent course
Evidence-Based Pathway involves providing three pieces of evidence from a list of more than 10 acceptable options, with specific parameters of which combinations for evidence will satisfy the requirements.
Details can be found here:  Act 158 Pathways to Graduation Toolkit
Beginning with the class of 2023, Pennsylvania high school students will need to demonstrate career or postsecondary preparedness to meet statewide graduation requirements and receive a diploma. The new graduation requirements, enacted in 2018 by Pennsylvania's Act 158, are intended to codify high standards for all students and improve student achievement across Pennsylvania while also taking into account student strengths, interests, and career goals.
As profiled in PERC's recent related brief, Act 158 outlines five pathways to meeting this requirement, two of which—the Keystone proficiency and Keystones composite pathways—require demonstrating proficiency on Pennsylvania's end-of-course subject exams for Literature, Algebra, and Biology. For students that cannot meet Keystone requirements, the policy articulates "alternative pathways" to graduation, e.g., obtaining an industry-based competency certification, successful completion of a service-learning project, or completion of an internship or cooperative education program, among others.
This report provides an overview of Keystone exam performance in relation to two of the five pathways to graduation under Act 158. We explore historical data for students in the classes of 2018 and 2019 who took Keystone exams while enrolled in SDP middle or high schools to estimate how many and which students would have met or almost met Keystone-associated requirements for graduation. The main takeaway is that Act 158 will require many schools to improve student Keystone performance or support them in pursuing alternative pathways, and the graduation rate within the School District of Philadelphia will depend on the strategies and supports students have access to.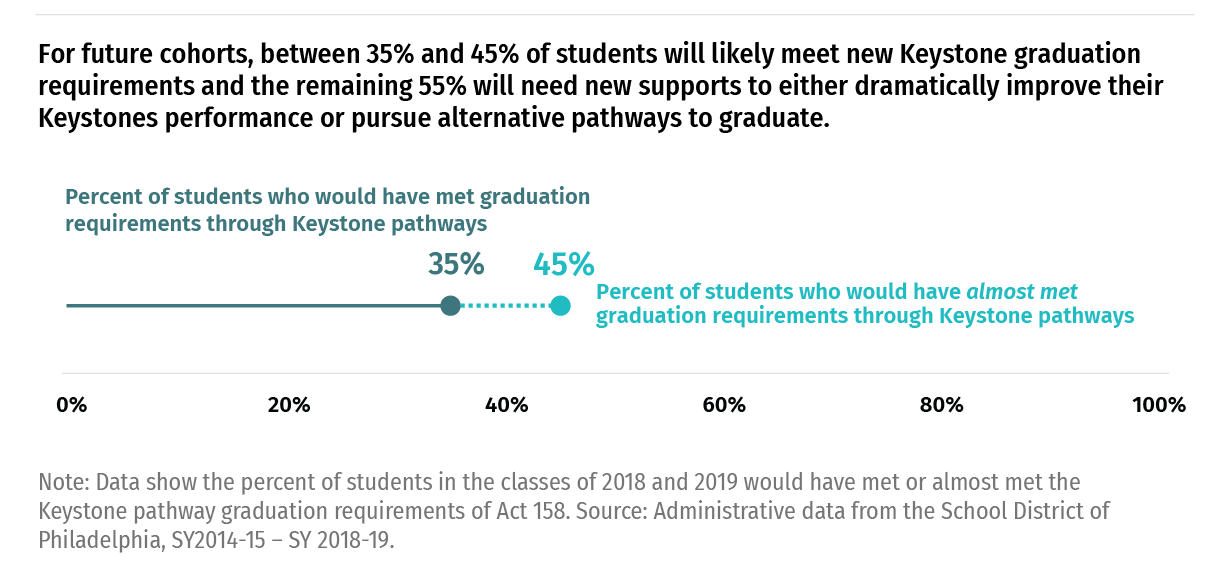 Key Findings
Just over one-third of students in the historical sample achieved Keystone scores sufficient to pass the Keystone graduation pathways under the new policy.
An additional 10% of students almost met graduation requirements through Keystone pathways, needing to earn a Basic on only one additional exam to meet the Keystone requirements to graduate, had they been in place.
For future cohorts of District students, we estimate that over half will need targeted support to dramatically improve their Keystones performance or may need to pursue alternative pathways to graduate.
The share of students who would have met or almost met Keystone pathways varied based on race/ethnicity, economically disadvantaged status, and other student characteristics, reflecting local, state, and nationwide historical inequities in standardized tests.
There are 49 schools where less than 25% of students would have either met or almost met the requirements for graduation through the Keystone pathways.
To explore more school-level findings, please use our interactive map.
Implications for Policy and Practice
Supporting all students to reach Act 158's graduation requirements will take a collaborative effort across the City. Partnering with SDP will be critical for stakeholders to stay informed of the many nuances of the District system and protocols in place. The District is preparing a Partner Toolkit to encourage coordination and collaboration.
To support longer-term data-driven strategies for navigating Act 158, Philadelphia education stakeholders as well as families and students should have access to publicly-available, school-level data related to all five graduation pathways.
This school year (2022-23), District and community supports could immediately target improving Keystone performance through interventions for 11th-grade students who are close to meeting the Keystone-associated graduation pathways. Students who will likely need to pursue alternative pathways should be identified and supported.
Seniors in the graduating class of 2023 who are not on track to meet Keystone graduation requirements should be identified early on in the year. Many students may be able to take advantage of COVID-specific waivers and/or adjusted Keystone requirements. Others will need to be connected to supports that will allow them to pursue alternative pathways.
Moving forward, it will be critical to provide guidance on the timing for pursuing the alternative pathways. Students take Keystone exams after each associated course, with the "best by 11th" score used to determine Keystone pathway eligibility. Clarity is needed on when schools should start to identify opportunities for students to pursue alternative pathways when needed or desired.